You are here
ALL NEW LEON PHEV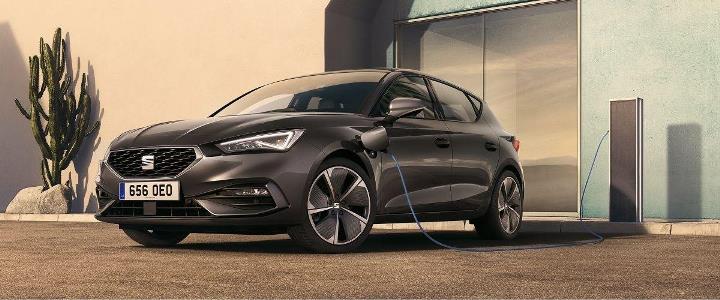 If you are looking for a brand new plug-in hybrid, you're in luck: the new SEAT Leon e-Hybrid PHEV is due to go on sale in the UK - and it is looking like it's going to be an amazing vehicle. Whether it would be your first e-vehicle or whether you are switching from another hybrid, you can be sure that this is going to be a car you will love. Let's take a look at some of the details of this stunning vehicle, and discuss why you might want to drive it away for yourself this year.
Great New Hybrid With Plenty Of Power
With the SEAT Leon you get a plug-in hybrid that you can trust to run efficiently, and which has a fair amount of power on it for the size of the vehicle too. With a 1.4 litre TSI petrol engine combined with electric motor and six-speed DSG 'box, this amazing vehicle can get from 0-62 in 7.5 seconds. Not bad! The electric motor gets its power from a 13kWh battery pack, to be charged at domestic rates, and it's wildly efficient - something that all hybrid drivers are going to love. If you book one today, you could be getting all this for yourself.
Great Emission & Economy
One of the things about these plug-in hybrids is that you always get an amazing set of figures on the emission and economy side of things. That remains the case with this SEAT Leon plug-in, and it's something that is likely going to help this vehicle sell very well. You're talking 27g/km and 230mpg, with a quoted EV range of 36 miles, so it's absolutely crazy, especially for a PHEV.
Amazing Price
If you are keen to get your hands on one of these beauties, you can do so for less than you might imagine. The new SEAT Leon PHEV has a starting price of £30,970, with plenty of options for finance and credit for those who might want to go down that route. Plus, there is no doubt that you are getting a lot of value for your money.
Stylish & Modern
As well as its incredible internal features, you'll also be getting a very stylish and modern-looking car, and one that you are going to be happy to drive. As standard you are going to get 16-inch alloy wheels which look just incredible, LED headlights which are known to be incredibly efficient, and you'll also get some useful features like electrically heated door mirrors and not to mention keyless entry - a feature that drivers always love. There is also an eight-inch infotainment system inside the vehicle, a leather-trimmed steering wheel for extra comfort and style - and some USB ports, which are always useful.
If you are keen to get your hands on a brand new plug-in hybrid, you need look no further than this beautiful and highly driveable SEAT Leon PHEV. You'll find it is a wonderful drive, and the kind of vehicle that you can reliably trust to safely get you from A to B.
For more information contact the Roadside SEAT Sales Team
Available at our site in Lurgan