Good-to-Go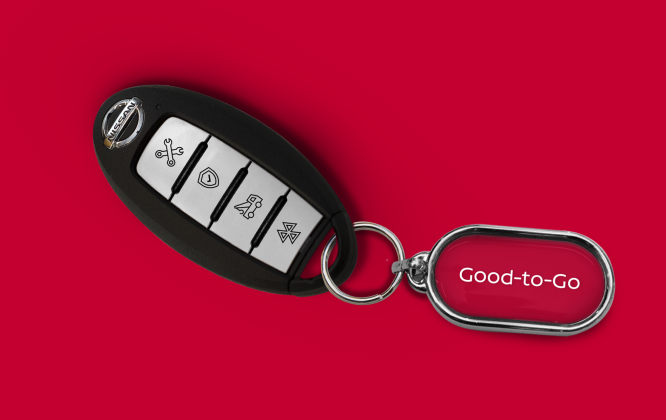 Introducing the all new Good-to-Go package 
It wraps all your ownership essentials into one easy monthly payment... So if your Nissan is between three and ten years old, all you need to worry about is, well, nothing actually.
---
Whats included?
SERVICING COSTS



The best people to maintain your car are the people that built it. Avoid expensive one-off costs and keep it in tip-top condition with regular servicing covered under your monthly payment.

COMPREHENSIVE WARRANTY

You'll be able to ditch your repair worries knowing that your Nissan is covered by an extensive manufacturer-backed guarantee for vehicles from three to ten years old.

RAC Membership



Your Nissan will be covered from the get-go, with RAC roadside assistance. So if something happens to your car while you are out and about, they'll get you back on the road again.

Pre MOT Check

You'll never worry about getting your car ready for MOT again. 
---
So whats the cost?
EV

Petrol

Diesel

£29.99 per month

Saving you £103.97 a year

£39.99 per month~

Saving you £143.97 a year

£43.99 per month~

Saving you £135.97 a year
~(There is a £7.50 monthly (£90 annual) supplement for all X-Trail models.)
---
You're Good-to-Go. Speak to us today by calling a member of our Nissan Aftersales Department on 028 703 54321
---
Nissan Good-to-Go package is available on all Nissan MICRA, NOTE, PULSAR, JUKE, QASHQAI, X-TRAIL, and LEAF models that are less than 10 years from 1st registration and with less than 100,000 miles on the odometer at the commencement date of the Good-To-Go package (370Z, GT-R, Pathfinder, Light Commercial Vehicles and Nissan models that are not European specification are specifically excluded). Note for all X-TRAIL models a monthly supplement of £7.50 or annual charge of £90 is applied to the package. Nissan Good-to-Go package comprises: 1 annual service (which cannot be taken until after 6 months from commencement date of the package) including Nissan Roadside Assistance. For full terms please refer to https://www.nissan.co.uk/ ownership/nissan-services/nissan-car-assistance/roadside-assistance.html. 12 months extended warranty from package commencement date. An MOT Test carried out at a participating Nissan Dealer (note for Northern Ireland this is replaced with a pre-MOT check at a participating Nissan Dealer). To qualify for the Nissan Good-to Go package the vehicle must: a) have an existing Nissan manufacturer's warranty which expires within the next 30 days; or b) have an existing warranty administered by Nissan Extended Warranty Administration which expires within the next 30 days; or c) have completed a Nissan vehicle Good-to- Go comprehensive check including any remedial work prior to commencement date; or d) have completed a Fixed Price Service at a Nissan Dealer. Nissan Good-to-Go package is administered by Car Care Plan T/A Nissan Warranty /Service Plan Administration. Nissan Good-to-Go package is available at participating United Kingdom Nissan dealers only. All prices are correct at time of publication and are subject to changes at any time without prior notification. Nissan Motor GB reserves the right to update, change, add, amend or withdraw the offer without prior notice. For more details of terms and conditions visit https://www.nissan.co.uk/ownership/nissan-services/good-to-go.html
Available at our site in Coleraine