Nissan Service Care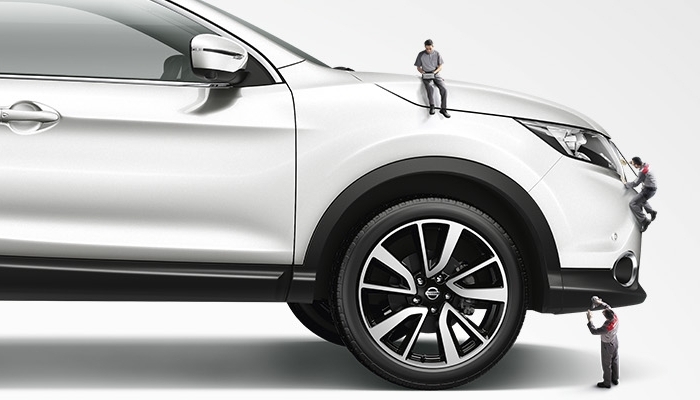 NISSAN SERVICE CARE
Everyone's a winner when they book a service with us – our package is designed to be transparent, simple and provide outstanding value. No matter how old your Nissan is our prices are fixed. You simply choose from a major or minor service for a petrol (from £199), diesel (from £229) or EV (from £159) Nissan, and in return receive fantastic added benefits.
SERVICE OPTIONS
MINOR SERVICE



INCLUDES* OIL & OIL FILTER, SUMP PLUG, SCREENWASH

PETROL

MODELS
DIESEL

MODELS
EV MODELS



EXCLUDING E-NV200

£229
£269
£159
MAJOR SERVICE



INCLUDES* AS ABOVE PLUS: BRAKE FLUID, AIR FILTER, POLLEN FILTER

PETROL

MODELS
DIESEL

MODELS
EV MODELS



EXCLUDING E-NV200

£309
£369
£209
ADDED BENEFITS
1 YEAR'S ROADSIDE ASSIST WORTH £95
Whatever happens we'll keep you on the road with minimum fuss with 1 year's roadside cover.
From a courtesy car to picking you up and taking you where you need to go, we'll arrange transport for you while your Nissan is being serviced.
EVISION: VEHICLE ASSESSMENT VIDEO
If our trained Nissan technicians identify an issue they'll film it, make a personalised video, and email it to you, so you get all the facts.
APPROVED QUALITY PARTS
When it comes to repairs only the finest approved quality parts will do. They've been designed specifically for the vehicle, which means they work more effectively, offer greater levels of safety and last longer. And you can rest assured that a trained Nissan technician will fit them.
FREE VEHICLE SOFTWARE UPDATES
We'll automatically check to see if any of your Nissan's features require the latest recall or service campaign related software updates – helping your Nissan stay on the roads for longer.
FRANCHISED TRAINED TECHNICIANS
Our teams of highly-skilled technicians have attended a number of specialist training courses, so they know everything there is to know about servicing and repairing Nissans.
Call our Nissan Service Team and speak to Ben or Lee-anne today on 028 703 54321.
Please ask about our Service Plans.
UK Nissan retail customers only, business customers excluded. Excludes GTR, 370Z, 350Z, LCVs, Pathfinder, Patrol, Navara, E-NV200 and non EU specification vehicles. Mileage and other restrictions apply to Mobility. Price based on minor petrol service. Servicing must be by a franchised Nissan Dealer at the intervals specified by Nissan. Includes labour and certain parts only. Software updates are available free of charge. Not all cars will require re-programming at time of their service. Participating dealers only, eligibility criteria apply. 



*Oil, Oil filter and Sump plug are not required for an EV vehicle and are therefore not included as part of a service.
Available at our site in Coleraine