You are here
The New Peugeot 2008 SUV!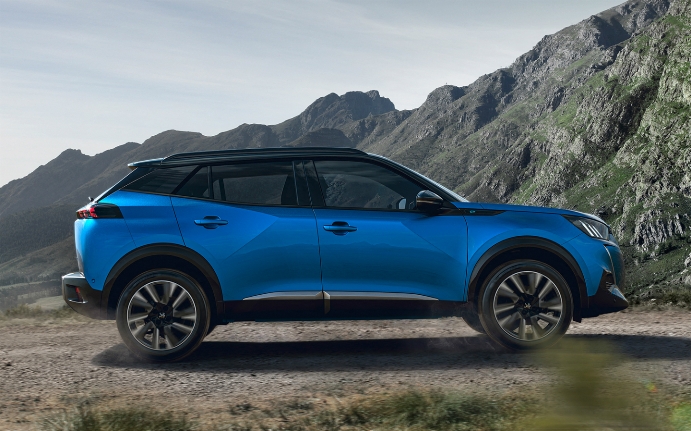 With its fluid and robust lines the all-new PEUGEOT 2008 SUV delivers masterful power and efficiency. Its striking front grille, horizontal bonnet, and raised ground clearance enhance the sophisticated and sharp design. At the rear the spoiler, gloss black rear cluster connecting strip, and chrome exhaust(1) affirm its sporty, tenacious personality.
EXCELLENCE IN EVERY DETAIL.
Every detail has been precision-crafted without compromise, for enhanced elegance and functionality. The expressive front face of the all-new PEUGEOT 2008 SUV features a large chrome grille and presents a modern and bold vision with its signature 3-claw full LED(1) headlights. The distinctive and daring rear design, with the gloss black rear cluster connecting strip, is further enhanced by full LED rear lights with claw effect.(1) Full Light Emitting Diode:Light emitting diodes use less energy and provide more powerful lighting. According to version.
WHEN MORE IS POSSIBLE.
The spacious boot(1), with fold-down rear seat, offers ample functional loading space. And there's no compromise whichever powertrain you choose: the boot has the same capacity throughout the range. 
 (1) Boot volume = 434 litres on floor and up to 1044 litres with rear seats folded down.
Enrich your journey with the new PEUGEOT 3D i-Cockpit® (1). Its intuitive driving position, compact steering wheel, 10" HD(1) capacitive colour touchscreen, and configurable 3D digital head-up display(1) provide an immersive driving experience. Fitted with smart technology like TomTom® Traffic(2) , Mirror Screen® connectivity (3) and wireless charging(4), it also boasts PEUGEOT Open and Go(1) keyless entry meaning the all-new 2008 SUV can be opened without removing the key from your bag or pocket…simply grab the handle and the car will unlock. And, should you forget to lock the car on departure, the system will automatically lock and confirm with an audible signal.
http://roadsidemotors.com/peugeot/new/just_add_fuel